GREAT GIFT IDEAS FOR CHRISTMAS
CHRISTMAS STOCKING STUFFER IDEAS
LAYBY NOW FOR CHRISTMAS - GREAT RANGE OF KIDS BIKES
READY TO RIDE OUT THE DOOR!
SPECIALIZED ROCKHOPPER WAS $659 NOW $599
Better performance. Better value. Better Rockhopper. By tapping the fit and handling advantages of pairing each rider with their ideal wheel size and suspension that works its hardest for everyone thanks to our size-specific Rx Tune, we've baked in added performance to the all-new Rockhopper without dialing up the price.
Limited sizes and colours available
CLICK HERE FOR A ROCKHOPPER AT $599
READY TO RIDE OUT THE DOOR!
SPECIALIZED ROCKHOPPER SPORT WAS $925 now $699
All barn-burner and no benchwarmer, the Rockhopper Sport throws out the playbook when it comes to putting performance points on the board while playing some serious defense on behalf of your wallet.
Game-ready with Tektro hydraulic disc brakes, Altus shifting from Shimano and an SR SunTour XCM fork that's built to hustle, the Rockhopper Sport can tack up the win on any given Sunday—and the rest of the week too for that matter.
CLICK HERE FOR ROCKHOPPER SPORT $699
READY TO RIDE OUT THE DOOR!
SPECIALIZED ROCKHOPPER COMP WAS $1,050 NOW $899
A summer blockbuster with an eye for adventure, the Rockhopper Comp lives for high action and fast-paced plot twists and features an all-new, Premium A1 Aluminum frame making its singletrack debut.
Roll the credits to discover an SR SunTour XCM fork with a custom two-way damping circuit, Stout wheelset, SRAM Level hydraulic stoppers and MicroSHIFT's wide-range 1x9 drivetrain and you have backup provided by a supporting cast that's all thriller and no filler, but will never leave you hanging.
CLICK HERE FOR A ROCKHOPPER COMP AT $899
Ready to ride out the door!
SPECIALIZED ROCKHOPPER EXPERT - WAS $1,650 NOW $1,199 (OAK GREEN)
Excuse the brag, but we've really outdone ourselves here. Proving that true trail-taming capability doesn't have to come at an intimidating price.

Start with a painstakingly engineered Premium A1 Aluminum frame, add in modern geometry that keeps one eye on efficiency and the other on confident capability and you have the rock-solid foundation of our best Rockhopper yet.

Pair that with a parts list that just doesn't quit (...can we get a shoutout for RockShox's Judy SoloAir fork and SRAM's always-in-charge Level hydraulic disc brakes?) and you have a tubeless-ready, SRAM Eagle 1x12-equipped Rockhopper that's absolutely prepared to fly.
Click here for Rockhopper expert for $1,199
Ready to ride out the door!
GIANT ATX OR LIV BLISS was $649 now $499
All-terrain versatility. With a mountain bike style flat handlebar and suspension fork, you can ride road or dirt with confidence. Lightweight and durable
comfort and stability
Frame geometry puts the rider in a position that balances efficiency with stability on rough roads, paths or trails.
Limited stock available
SHOP HERE FOR ATX AND BLISS
BIKE RACKS TO SUIT YOUR BIKE AND CAR
STAY OUT OF THE RAIN - BUY A TRAINER FOR $179
Magnetic resistance mechanism
Fixed resistance perfectly tuned for fitness riding
Pre-assembled and ready to ride
Folding frame for easy storage and transport
Lowest profile of any trainer
Includes training skewer
Soft feet and a wide, low stance for safety and stability
Includes JetBlack Lite App for iOS and Android
1 Year Limited Lifetime Warranty
Thru axle able to buy for disc bike
PICK UP ONLY IN STORE
CLICK HERE TO BUY
E-MTBS FOR HIRE IN TOWNSVILLE
DID YOU KNOW WE HIRE BIKES?
We have Specialized Levo Comp Alloy E-MTB's and Kalkhoff E-Leisure bikes for hire - click below for hire rates.
EBIKE HIRE RATES
MORE CHRISTMAS STOCKING FILLER IDEAS!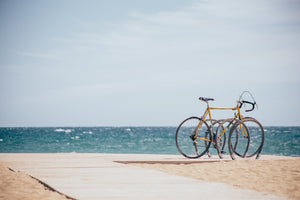 PAYMENT PLANS AVAILABLE
ENJOY NOW.PAY LATER
AFTERPAY • ZIPP MONEY • BITCOIN

Come in and see us to discuss our interest free options.
Gem visa
go mastercard